$85,000 / 1br – 396ft2 – Beautiful 396 SqFt Tiny Home – Set in park and ready to move in! (Grants Pass (Lower River Rd))
$85,000.00
Photo Gallery
$85,000 / 1br - 396ft2 - Beautiful 396 SqFt Tiny Home - Set in park and ready to move in! (Grants Pass (Lower River Rd))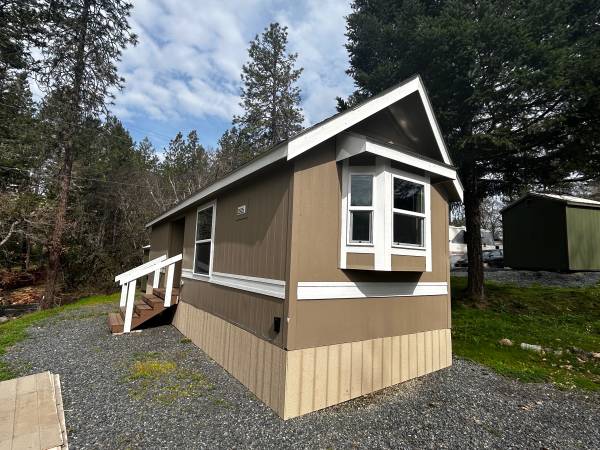 | | |
| --- | --- |
| Phone | 541-290-0728 |
| Type | Manufactured |
| Bedrooms | 1 |
| Bathrooms | 1 |
| SQFT | 396ft2 |
| Laundry | Laundry on site |
| Parking | Off-Street parking |
Ads Description
Interested in reducing your bills, getting back to the essentials, and reducing the sprawl? Then check this out —-> Beautiful tiny home located inside Whitehorse RV Village next door to Whitehorse county park and the Rogue river. Fantastic residence for inexpensive living in a very nice and comfortable home. 396 Square feet with lots of built in storage and a spacious interior featuring a vaulted ceiling throughout. Lots of natural light to open the space up. Front kitchen with all the features of a full sized house. Check out the bay window above the kitchen sink! Large entry staircase to give elegant and easy entry. Gas forced air central heating. Full insulation to keep energy bills low. The park has new high efficiency laundry machines in an onsite laundry mat. Built by Palm Harbor homes in 2020 as their show room display unit and installed in 2022 by park owners as an onsite residence. Separate lot from others in the park with unique site that allows spacious side by side parking of up to 2 vehicles. Its elevation gives a living room view out over the top of neighbors and across the oak trees beyond the park. Site includes a new park provided 8×8 shed. Site rent includes water, sewer, and garbage service. Power is directly metered and invoiced with site rent so no separate power bill to deal with. There is even free WiFi in the park! The house does still have the tongue, axles, and tires tucked up behind the skirting for future relocation if desired. House exterior of fiber cement and roofing is laminated shingle. Here's the best part… because this house is just under the 400 square foot threshold, it isn't considered real estate and therefor has ZERO property taxes under Oregon law! Monthly site rent is $500. Contact us today for a tour of this gem. 541-290-0728
. This is a for sale by owner property. Sorry we cannot offer to carry a loan on the house. I will add a YouTube video walk through soon!
Listing ID: 6756470169307bab
Contact Owner
Complete the form below to send a message to this owner.