( High Top ) Chevy duramax diesel short school bus #0752 – $7,500 (Wolf Creek Oregon exit 76)
$7,500.00
Photo Gallery
( High Top ) Chevy duramax diesel short school bus #0752 - $7,500 (Wolf Creek Oregon exit 76)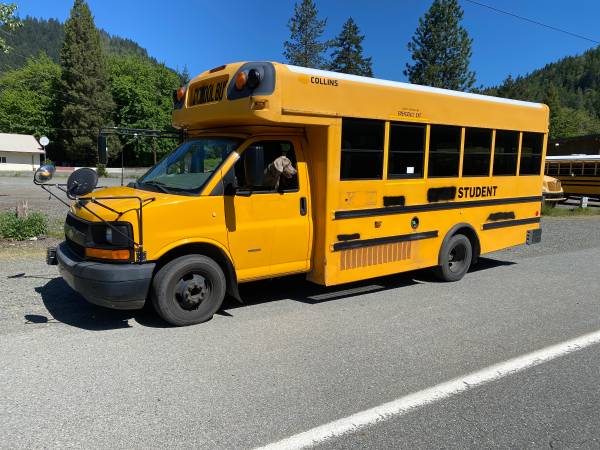 | | |
| --- | --- |
| Make | school bus |
| Model | school bus |
| Model Year | 2009 |
| Mileage | 303900 |
| Vehicle Type | Bus |
| Transmission | Automatic |
| Title Status | Clean |
| Phone | 541-660-9801 |
Ads Description
Once a month we draw straws for a special of the month. And this bus drew the short straw and got $1000 off regular price of $8500
Hippies, gypsies and flower children automatically receive a $500 discount on any bus in inventory that does not already have that discount appleid. No further discounts available on this particular unit and price is firm at $7500.
Folks do not buy a bus from anybody that will not give you a full refund within 24 hours of your purchase if you're not 100% satisfied like we do
I have for sale a great running six window Chevy turbo diesel Short Bus
Bus runs down the highway great, does not overheat and would make a excellent motorhome
Bus is straight and rust free with beautiful paint
Inside of the bus is Dusty and will need a good cleaning
Engine is the duramax turbo charged diesel V8 with automatic transmission, these engines easily go 600,000 miles, runs great with no issues, fires right up on the coldest days and does not overheat
Front tires are 65% rear tires are 85% tread or better
Brakes are 75% to 80%
Has 6'4" floor to ceiling headroom And approximately 15' of usable space behind the drivers Seat to the rear door. 24' long bumper to bumper.
Bus has a top speed of 90 miles an hour
White roof, factory, tinted windows and ice cold dash AC
I am not desperate to sell this bus so please do not insult me with lowball offers
Call or text for additional information or to set up a appointment to test drive 541-660-9801
We specialize in used buses that have been thoroughly checked out by our repair facility and can be driven anywhere any distance without disappointment.
We are a licensed and bonded bus dealer and Can get you motorhome plates,
We offer a 24 hour full money back guarantee on anything we sell
Wolf Creek motors bus sales #DL0400
440 Old Highway 99 S. Wolf Creek OR 97497
541-660-9801
Kurt at your service 24/7
Listing ID: 1916473721fed239
Contact Owner
Complete the form below to send a message to this owner.