$3,000 Lease ,2500 sq ft Indoor Grow, 3000sqft Dry Barn , 3 Phase, OLCC, H2O (Williams)
$36,000.00
Photo Gallery
$3,000 Lease ,2500 sq ft Indoor Grow, 3000sqft Dry Barn , 3 Phase, OLCC, H2O (Williams)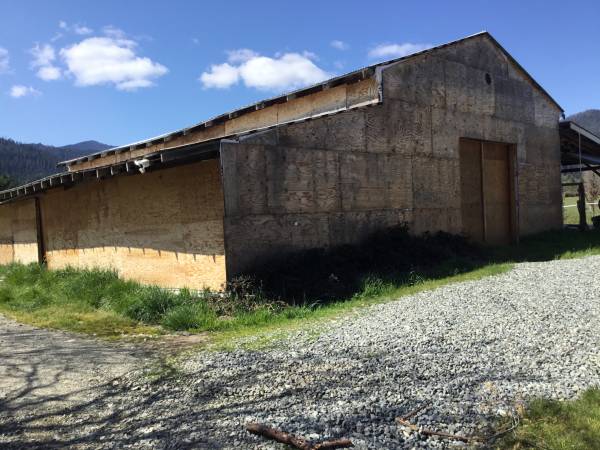 | | |
| --- | --- |
| Phone | 541-415-0551 |
| Type | Land |
| Laundry | No laundry on site |
| Parking | Off-Street parking |
Ads Description
This Turnkey Farm Includes a 2500 sq ft Indoor growing facility, 3000sq ft Dry barn, 18×11 ft walk in freezer , and office trailer.
It is Zoned EFU with 1872 water rights and qualifies for an OLCC Recreational Producers License. ( It does not come with one, tenant must provide their own license or provide legitimate OMMP cards and paperwork.)
This property has been granted a LUCS Permit in the past.
Included in the lease is a 2500 sq ft Indoor Growing Facility with irrigation system, pressure tank , 2500 gallon reservoir, numerous outlets for lights , 2 industrial Quest dehumidifiers , Ventilation And exhaust fans and Spray Foam insulation ceiling And insulated walls.
Power:
The 2500 sq ft Indoor Growing facility And the 3000 Sq ft dry barn share 400 amps of single phase power .
Available for development is one 200 amp meter of 3 phase power at 480 Volts , ( The Dry Barn could be upgraded to a 2nd Indoor facility).
Adjoining Indoor Grow is 18 X 11 ft Sub zero Walk -in Freezer for fresh frozen products and distillates .
Included in lease is a large 3000 sq ft ,3 bay, two story Dry Barn with an industrial Quest dehumidifier , And trellis system all set up For drying .
This farm is private and secure ideal for growing , and is surrounded by the Landlords' private ranch.
Adjoining the Indoor facility is an Office Trailer with Steel Doors , phone , heat, and air conditioning.( It may qualify for an OLCC security room , Tenant must perform due diligence).
Lease includes 1000 watt Grow lights , multiple trim machines, industrial Vacuum sealer , digital scales and numerous other Growing Equipment ,
The water rights are Year 1872, with up to 350 gallons per minute pressurized risers At 80 PSI . Irrigation system Is included
Additional Full sun , flat fertile 3-10 acres are available for additional rent .
A big 85 HSP John Deere Tractor And multiple Heavy duty farm implements including Disc, Tiller , Bed shaper, And Water wheel planter are available to hire .
This property does Not come with an OLCC Recreational License .
Property does not come with OMMP medical cards .
Tenant is required to transfer Recreational license or OMMP cards to the property prior to any cultivation.
Must be 100% Legal , legitimate and verifiable, no exceptions and no Hemp.
3 or 5 year NNN Lease required
Rent $3000. per month paid 6 months in advance
A $36,000. security deposit is required
Taking serious inquiries from legitimate OLCC or OMMP licensed applicants .
email or text only No calls.
Five four one- four one five – zero five five one
Please email me your name , your cell number and your plans for the property and I will call you back and provide details on the lease .
Thank you
If this ad is up the property is still available.
Listing ID: 883642b127eb1f3a
Contact Owner
Complete the form below to send a message to this owner.