Operation, maintenance, housekeeping, cook, bar tender (Klamath Falls (Mountain Area by the lake))
Photo Gallery
Operation, maintenance, housekeeping, cook, bar tender (Klamath Falls (Mountain Area by the lake))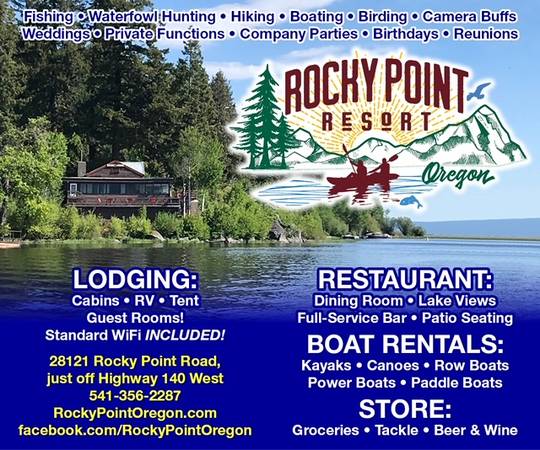 | | |
| --- | --- |
| Job-Type | Full-Time |
| Salary | $13 - $16 |
| Phone | 650-270-3068 |
Ads Description
Tire of the hustle-bustle of city life, looking for a job in nature by the lake, come join our team. We look for candidates with integrity, reliability, honesty, and a high standard of work ethic.
Rocky Point Resort is 30 minutes from Klamath Falls and about an hour from Ashland and 45 minutes from Medford. It's rural yet not far from urban convenience. The resort has a restaurant, hotel room, cabin, RV park, and boating facilities. It has been a destination for outdoor activities like fishing, boating, birding, and duck hunting for many families with over 100 years of history. Candidate must have reliable transportation, must commit to attendance, be a team player, pleasant, honest, courteous, and hospitable with commitment, zeal, and passion for excellent customer service. Only candidates who understand high standards and pride in their work need to apply. We offer full-time and part-time positions. If the candidate is only interested in the seasonal position, the minimum commitment is six months or until October 30th.
You can trade work hours for RV space or a tent site (when the weather is warm). If your work more than the trade hours, you will be paid hourly.
-Front Desk
-Maintenance
-Housekeeping
-Cook & Chef
-Bartender
-Camp host
We accept both full and part-time staffing, employee benefits include discounts on food, store merchandise, boating rental fees, and firewood.
Candidate MUST provide a driver's license or government-issued photo ID, or social security number, and have permission to work in the US. Please be ready to provide your resume and work history. We encourage employment from retired professionals and veterans. We do not provide relocation assistance or health care benefit.
Interested party, please call Esther 650-270-3068
Listing ID: 645642867d24161e
Contact Owner
Complete the form below to send a message to this owner.